"Australia is one of the leading countries in all fields of healthcare, including advanced medicine."
Customers mainly obtain their medicine through Pharmacies, where a prescription is submitted in exchange for purchase authorized by medical professionals.
Every business or organisation's aim is to:
Have repeat customers/ businesses

Create maximum customer satisfaction

Gain a form of passive advertisement
The Australian healthcare industry is no different, with traditional and customary processes falling out of style and being challenged.
However, the goals are not as easy as they seem to achieve. Issues you may encounter in your business are as follow:
With customer expectation at an all-time high, arises the challenge for a business to increase its capabilities.

A customer's perception of the experience and their expectations differ based on the service they receive.

Long physical queueing cannot be avoided, but when managed properly can incur a positive experience.
A solution to this?
A business process automation with potential thigh returns and minimum investment, which can greatly improve not only customer service and satisfaction but also staff efficiency, SMARTQUEUE®️ for Pharmacy.
The system has 2 types of flow to choose from to enhance your business, including: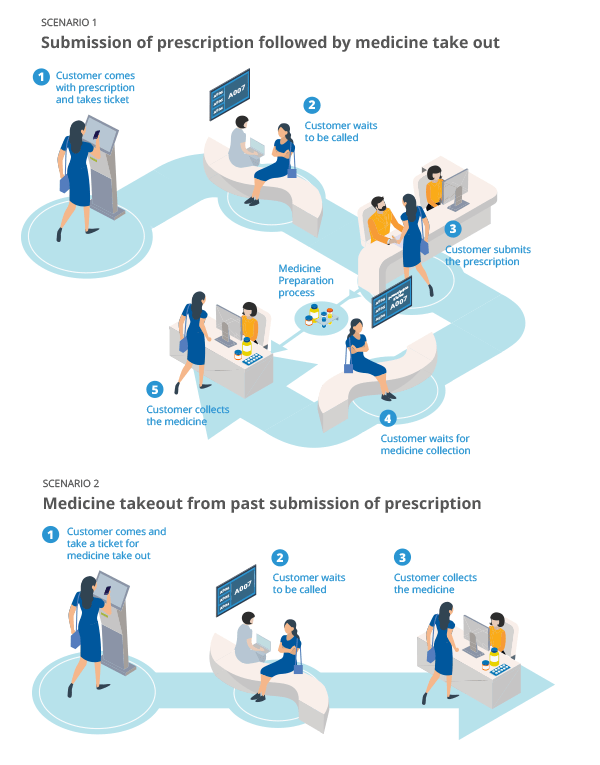 If you would like to take the first step in reshaping your customer journey for the better, get in touch with us to find the most suitable queueing management solution for your pharmacy.